Gutter cleaning isn't a glamorous or exciting job and many new homeowners often neglect this element of home maintenance.  Guttering cleaning is an essential task when owning your own home and should be performed at least twice a year.


Clogged guttering can cause a whole host of problems: the overflow water can cause damage to the landscaping and foundation around the house, an increase in weight can cause the gutters or soffits to come loose, which can lead to rot behind the fascia. This could lead to expensive repairs as we at Dobson roofing can attest to… Many of our soffit and fascia repairs come from simply neglecting guttering cleaning.
Throughout the winter months, clogged gutters can lead to ice blocking the gutters and cause roof leaks. Ice can form in the gutters and form further up the roof getting in between the roof tiles or layers of your roofing which, upon melting, can lead to leaks.  Leaves from surrounding trees are especially troublesome when it comes to clogging gutters so if there are a lot of trees around the house it is recommended to clean the gutters more frequently.
The traditional way of cleaning gutters of getting up on a ladder with a trowel, gloves and garden hose to flush out the gutters is still the best… The months of April and October tend to be optimal for gutter cleaning here in Sheffield (or the UK as a whole). Always bear in mind that guttering cleaning can be dangerous and should always be performed by someone capable.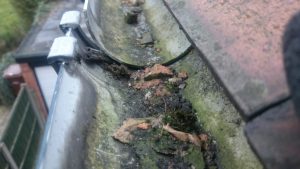 Always remember when cleaning gutters, it is important to ensure the ladder is always secure and to wear gloves. When cleaning always begin at the down pipe with a trowel and hose working your way back up the gutter ensuring the down pipe is clear from debris. If the down pipe becomes clogged it may need to be removed, disassembled or even replaced (the experts at Dobson Roofing would be happy to assist here).  Scoop out and dispose of any debris and then rinse the trough clean, while doing this you should also check the guttering for leaks.
Gutter cleaning is commonly a DIY task but getting advice from an experienced roofer is advisable whenever working on roofs. So don't hesitate to contact us at Dobson Roofing if you have any queries or would like us to quote on roofing repairs, guttering repairs or any work on soffits and fascias. Our contact details are here and our experienced and friendly team will be happy to help.